St. John of Kronstadt on the Holy Icons
You may sometimes have seen how the human face is reflected in a broken mirror in a multitude of separate images, according to the number of pieces in which the mirror was broken, or in every bubble of water, or in every drop of dew, and in the pupil of the human eye. If this is possible and is a common phenomenon in nature, then why should not we Christians allow numerous representations of one and the same face - of the Lord, or of His most Pure Mother, or of a saint, and see in each image the Lord Himself, or His most Pure Mother as we see in a mirror or in pictures numerous reflections of one and the same face.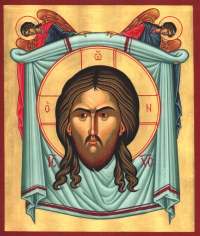 The Icon of our Lord "Not-Made-By-Hands"