Easily Manage Your Own Website


It's Simpler Than You Think!
No software to install. No special computer skills necessary. All you need is an Internet connection. Use any computer, tablet, or smartphone.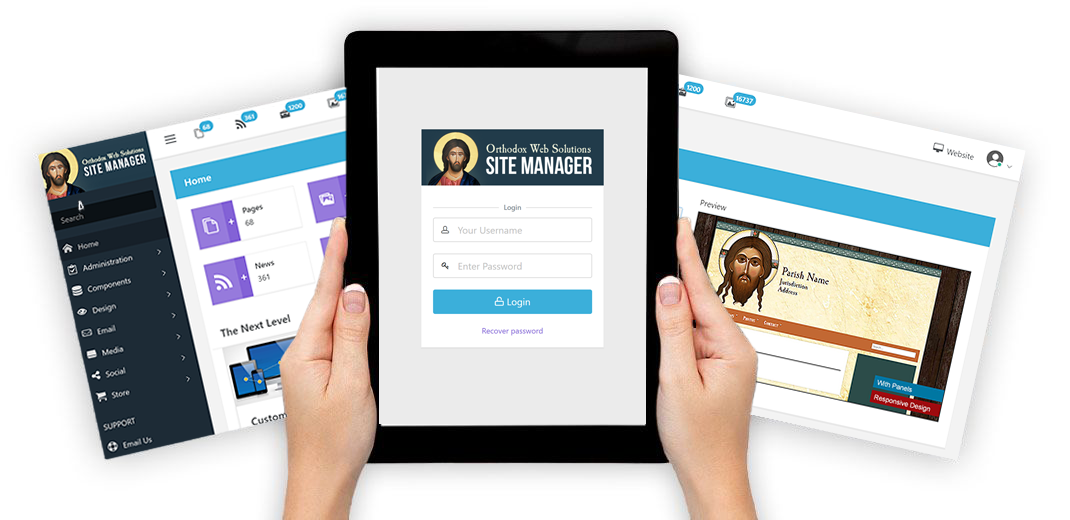 Orthodox Web Solutions has been providing websites to parishes, monasteries, businesses, and organizations since 2003.
Manage your website no matter where you are entirely from your smartphone.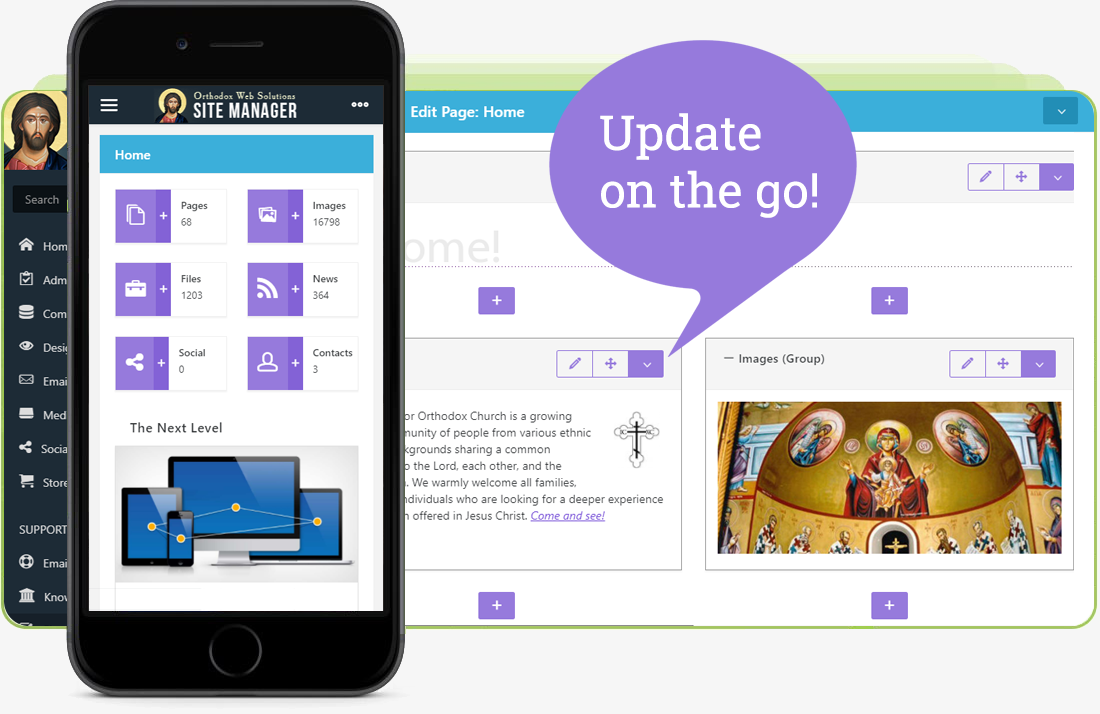 All the Services, Features, and Tools You Need.
The Site Manager's set of features, options, and tools make it possible for you to take control of virtually every aspect of your website.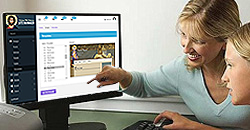 Content Management
Designed from scratch for Orthodox Christian use, our Site Manager has all the tools to make building your church website easy from the start with no training.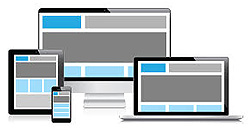 Responsive Design
We use responsive design technology to optimize your website for various devices: desktops, laptops, tablets, smartphones, and other handheld devices.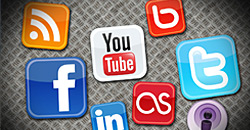 Social Integration
Quickly integrate with your favorite social networking sites, blogs, media sharing sites and web applications: Facebook, Twitter, YouTube, Google Apps, and more.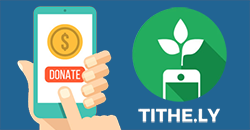 Online Donations
We are teamed up with Tithe.ly to offer a full featured and integrated option for online donations. No setup or monthly costs. Special discounted rate!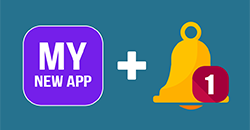 Progressive Web App
Turn your website into a Progressive Web App for smartphones, tablets, and other devices. Enable web push notifications for instant alerts.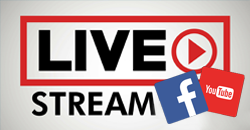 Live Stream Integration
Easily embed your Live Stream from Facebook, YouTube, etc, right into your website in a matter of seconds with no plugins and at no cost.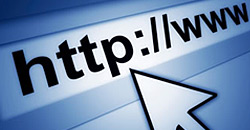 Domain Registration
Your account comes with one free domain name and additional domains are just $15/year. Need help picking out your domain name, just ask us for suggestions.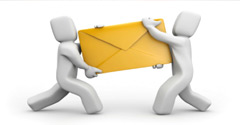 Email and Mailing Lists
Unlimited email addresses, mailboxes, and forwarders. Example: name@yourparish.org. Access to webmail. Mailing lists for broadcast or discussion.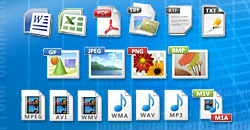 File Sharing
Share your weekly bulletin, monthly calendar or audio files using our Files feature. No need to recreate your existing files, just upload them to your site.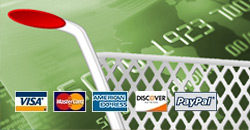 eCommerce
Get your store online with our eCommerce addon: shopping cart, secure checkout, live shipping quotes, order / customer management and export, and more.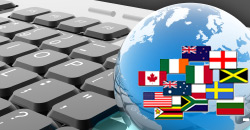 Multi-Language Support
Our Site Manager offers full support for multiple languages, allowing you to easily manage a second language mirror site. All mirror sites are half price!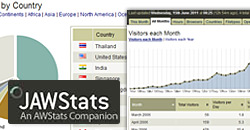 Statistics and Reports
Easy to read charts and graphs showing who is visiting your website, where they are coming from, what they are looking at, and if they are coming back or not.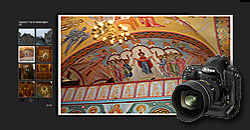 Photo Galleries
Create galleries in seconds using the renown SimpleViewer, a sleek photo viewer with universal playback on Windows, Mac, Linux, iPhone, and Android.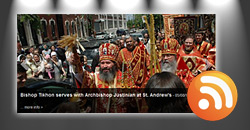 News / Blog Posts
Easily manage news and blog posts. Then display your news in the style of your choice, including the highly popular featured content layout. RSS enabled.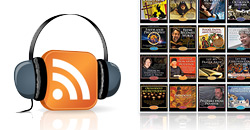 Podcasts
Display podcasts from Ancient Faith and the Orthodox Christian Network. When a new podcast is released, your website will be updated automatically.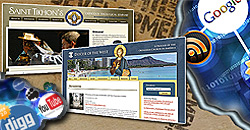 Custom Design
Our team of graphic designers and web developers specialize in uniting the aesthetic tradition of the Church with today's newest technologies.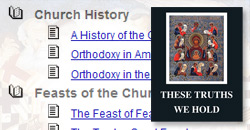 Educational Materials
Over fifty articles of introduction to the Orthodox Faith for visitors and inquirers from the classic work, These Truths We Hold. Viewable online and printable.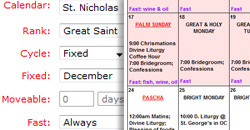 Liturgical Calendar
Create online and printable versions of your monthly calendar in just minutes using our smart liturgical calendar. Full control over festal and fasting data.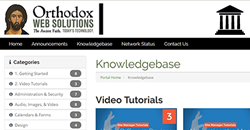 Knowledgebase
Articles and how-to's covering subjects like: Getting Started; Administration & Security; Audio, Images, & Video; Calendars & Forms; Domains; Donations; eCommerce; and more.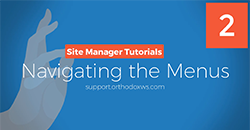 Video Tutorials
Video tutorials will visually guide you through the major components of the Site Manager, showing you how to do not only the basic tasks but also the most advanced.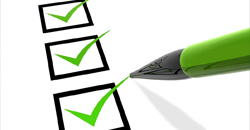 Checklist
The checklist offers a real-time review of your website, based upon how many of the available features you are currently using, and suggests ways to take your website to the next level.
A Team of Experts at Your Service
Don't go it alone! Surround yourself with an experienced and dedicated team; there's strength in numbers.
Web Developers
Our coders are continuing adding to the Site Manager's feature set at no cost to you!
Web Developers
Have a project that requires development? Our programmers can help you get it done.
Tech Support
Our support team is here for you via online chat, our email ticket system, and toll free calling.
Tech Support
We know everyone needs support. Our goal is to treat you as we would like to be treated.
Database Administrators
Our DBAs handle the design, installation, security, performance monitoring, and troubleshooting of your database.
Database Administrators
They also ensure the integrity of the database, guaranteeing that the data stored in it is uncompromised.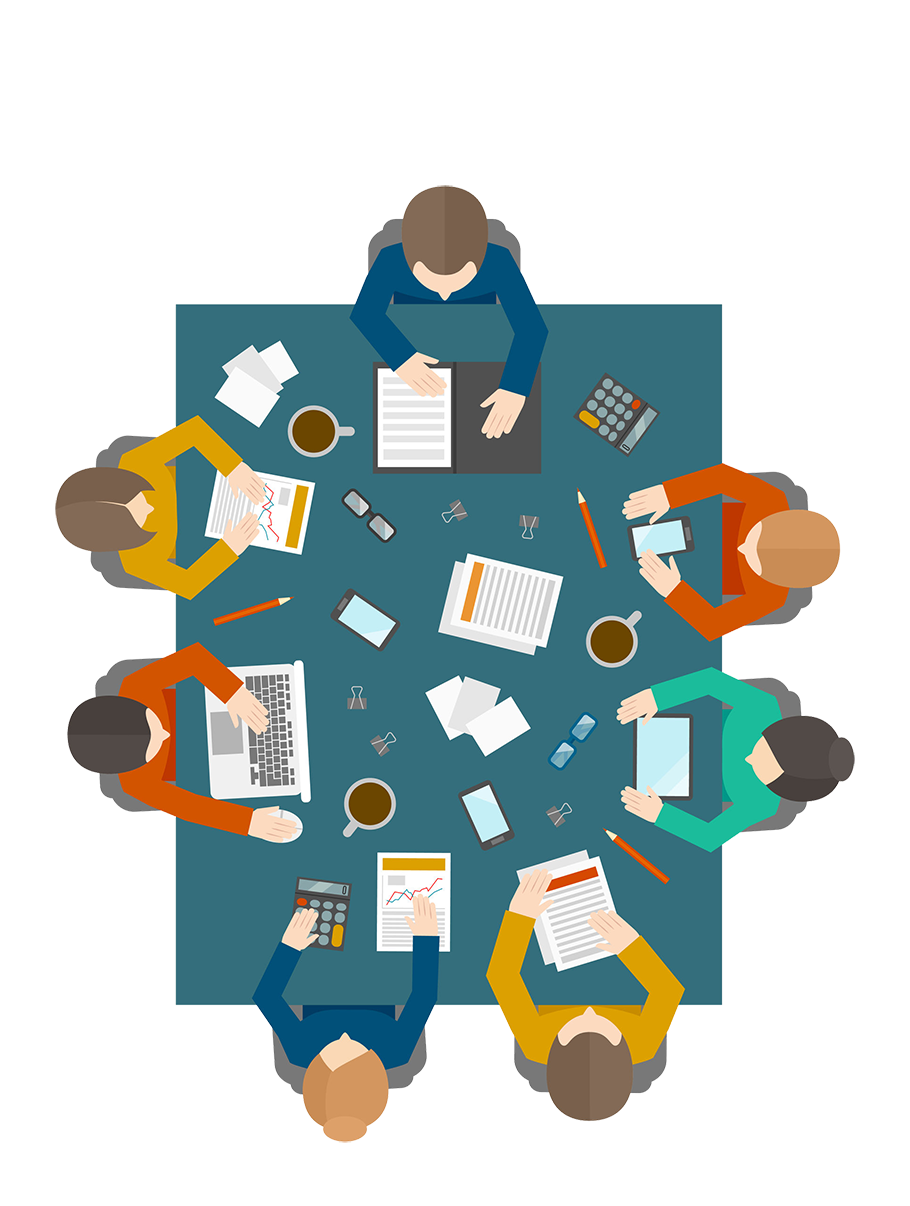 Graphic Designers
Our designers aptly blend modern UI principles with Orthodoxy's aesthetic tradition.
Graphic Designers
Dozens of templates available for your usage – freely and instantly switch at any time.
Server Admins
Our admin team provides real-time monitoring, continuous backup, and near 100% uptime.
Server Admins
We've hired with a team of experts dedicated to monitoring network performance and security.
Certified Technicians
We've contracted a team to proactively monitor and upgrade your server's hardware and network infrastructure.
Certified Technicians
This team is responsive, highly trained, and equipped to handle the most challenging situations.
What Our Clients Are Saying
We do our best to make sure our clients are 100% satisfied with our services. Have an issue? Please just let us know!
"OUTSTANDING! What a beautiful, elegant and powerful update to Site Manager 4.0! VERY easy and quick to learn and use. Much quicker refresh times for moves, saves, etc. Everything is much more responsive, which speaks to some powerful improvements "under the hood."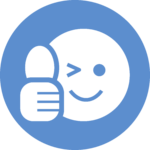 Ralph (Zosimas) Sidway
Christ the Savior~Holy Spirit Orthodox Church
Cincinnati, Ohio
"We are getting nonstop positive feedback from our clergy and readers. The site is roaring back to life thanks to OWS!"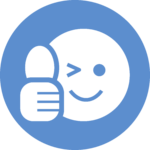 Peter S. Lukianov
Eastern American Diocese
Howell, New Jersey
"You are constantly improving the OWS Site Manager. I wish I could find a product as polished for my employer's business needs."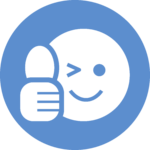 Christopher Issariotis
All Saints
Toronto, Ontario
"Whatever growth we have experienced as a community, and it has been significant, it is directly related to our parish website. Our website acts as the front door to our church. Quite obviously, we could not be happier."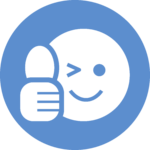 Fr. Marc Vranes
Holy Trinity Orthodox Church
Willimantic, Connecticut
"To say that I am thrilled with the way the website looks is a grand understatement. I absolutely love it. It is just so great, there are no words. Thank you so much for using your talents to God's Glory!"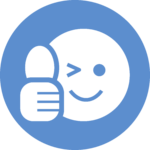 Trudy Ellmore
Diocese of the Midwest
Chicago, Illinois
"Thanks for ALWAYS getting back to me very quickly. Best customer service ever. You can quote me:)"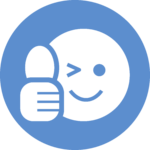 Alena Plavsic
Development Manager
Fund for Assistance
"The Site Manager is wonderful and extremely user friendly. Thanks for this ministry. It is a blessing."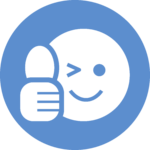 Fr. Jason Foster
Holy Nativity of the Lord
Haughton, Louisiana
"Your product just keeps getting better and better. Support is outstanding and quick. Thank you for supplying reasonably priced, easy to use, professional looking websites for the propagation of the true faith of Holy Orthodoxy."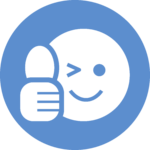 Fr. Joseph Ciarciaglino
St. Philip The Apostle
Tampa, Florida
We charge a one-time setup fee for your site's creation. For our reasonably priced monthly fee, we provide you with hosting, domain registration, graphic design, email, mailing lists, software upgrades, server backups, pro-active security, and customer support via phone, email, and chat.